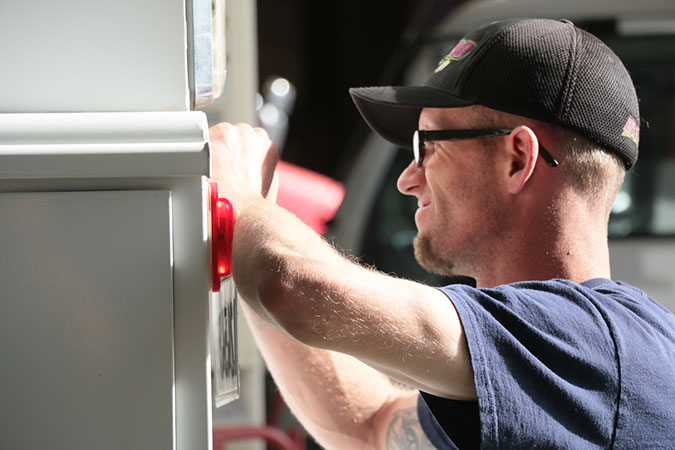 SERVING OUR
CUSTOMER'S NEEDS IS OUR
MAIN OBJECTIVE
OUR history

.
In 1983, Rick McCray Sr. opened the doors to McCray Enterprises a diesel repair shop on Fifth Street in San Bernardino. With only three mechanics and two bays to work out of, Rick began to build the successful multi-million dollar business it is today.
Today, McCray Enterprises not only works on trucks it now has it's very own 2,500 square-foot parts department, a full-service body shop specializing in fleets and municipalities. The body shop is one of the few in California fully equipped with a frame machine specifically for semi-trucks, trucks, trailers, and buses. It also has two 63-foot drive through booths and it's very own mixing room.
The newest edition to the shop is the 12,000 square foot eight bay mechanical shop and the two-story office's built six years ago. These additions have come with the continuing growth of the business and accounts. McCray prides itself on customer service and highly qualified mechanics and body men.
McCray's is a certified Maxon and Leyman Lift gate dealer and service center. We are also a John Deere dealer and warranty station.
- California Certified for Fire Apparatus
- Certified Opacity Testing
- Certified DPF Installation - HUG, HUSS, RYPOS, EXCONIX, ESW, CDTI
- Maxon and Liftgate Dealer and Service Center/LIFTGATE Dealer/Installer for - MAXON, LEYMAN, WALTCO
Coca Cola
Schneider
City of San Bernardino
San Bernardino County Sheriffs
Long Beach Transit
Lifestream
Farwest Meats
Interstate Batteries
Copy Right © 2017 McCray Enterprises
24268 W 5th St San Bernardino
CA 92410